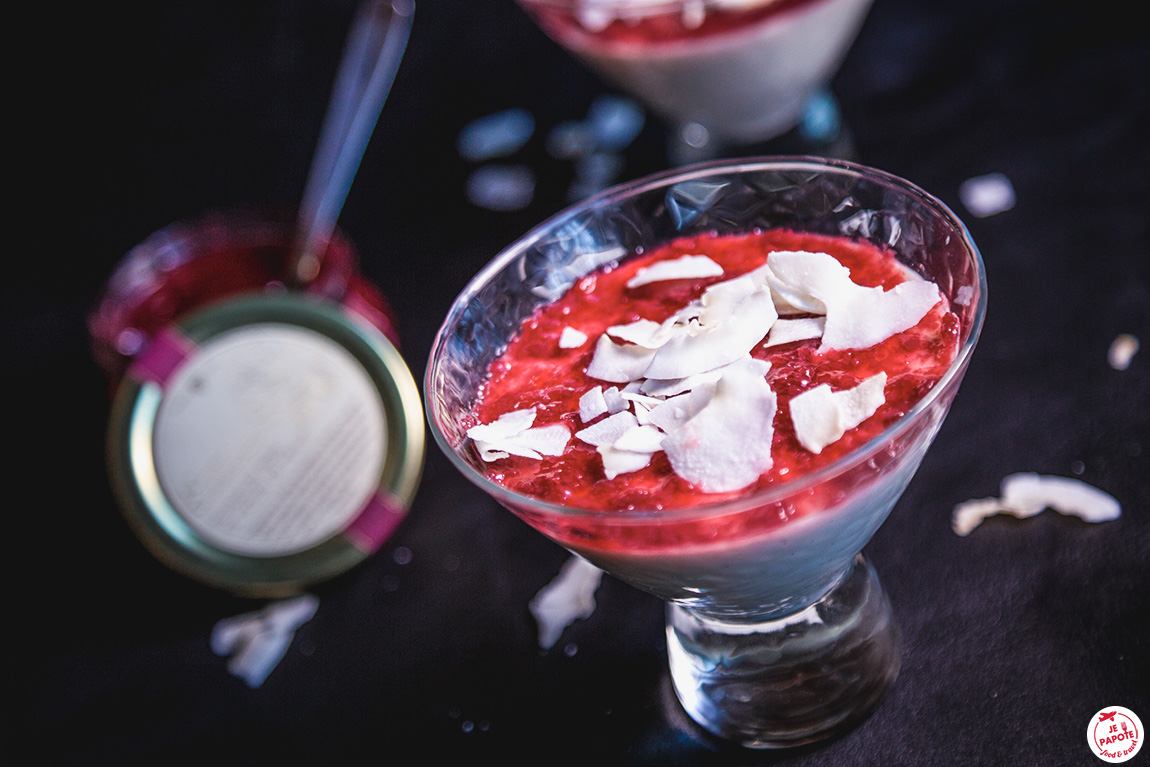 If you like quick desserts and coconut is an ingredient you love, this recipe is for you!
I've had the idea for a long time to make coconut panna cotta and quite frankly, I don't know why I didn't do it sooner! I love panna cotta in general so with the coconut taste, it's just perfect.
For this recipe you need very few ingredients: coconut milk, liquid cream, sugar and gelatin to get that smooth panna cotta texture. I added a vanilla bean, you can make it with or without but I find that it brings a plus especially if you have a fresh bean. I use vanilla from Mauritius that I always have at home.
The panna cotta is usually served with a coulis but it can also be eaten without. To keep the taste of coconut, you should not use a lot of coulis or choose a sweet flavour. I like the association with blueberry, passion fruit, mango.
For this test, I must admit that I was lazy to make a coulis so I used a product I had at home: rose petal jam! And I found that the association was perfect if you have a light hand.
This product comes from Finland, I can find it in supermarkets recently but the one I used comes from my friend Jarna who sells Finnish products in France. If you are interested in this rose petal jam, you can find it here or here.
Here is the recipe !
The list of ingredients for 4 small coconut panna cotta
20cl of coconut milk
25cl of liquid cream
50g sugar
6g gelatin (3 sheets of 2g gelatin or 1 bag of powdered gelatin)
1 vanilla pod
20cl ready-made coulis or rose petal jam
Toasted coconut shavings (optional)
Preparation instructions
Moisten your gelatin sheets in a little cold water. If you are using powder, pour 3 tablespoons of water over it.
In a saucepan, put the coconut milk, liquid cream, sugar and the seeds of the vanilla pod.
Heat until it boils, stirring constantly so it doesn't stick.
After boiling, leave to stand for a few minutes and add the gelatine (if in sheet form: drain and add) and mix well to incorporate it.
Pour the liquid mixture into ramekins or small glass jars and leave in the fridge for at least 4 hours to allow the panna cotta to reach its consistency.
Before serving, you can add some coulis on top or the rose petal jam as I did. I also put some toasted coconut shavings on it!

</ul> I

hope you like this recipe! In my house it has become a staple and now I make more of it

Coconut milk panna cotta

Other dessert recipes you might like:
I'm Michelle, and I love to travel. As a former hotel expert for one of the world's largest hotel chains, I've stayed in nearly every type of room imaginable (including many that were not so desirable!). Nowadays, I am fortunate enough to be able to explore the world on my own terms. From international flights to learning different languages, there is nothing too far out of reach!