Omicron does not appear to be weighing on demand at the moment, according to OAG (Gothenburg Airport- Photo: L. Citrinot)
According to consultant OAG
, the week to December 13 shows a slight increase in air capacity. It increased by 3.8% week-on-week to 81.4 million reported seats. Compared to 2019, however, capacity expressed in seats is still 26.2% lower.
OAG thus notes that the Omicron variant does not appear to have damaged airlines' short-term capacity. Demand remains strong, particularly in view of the end-of-year holidays. On the other hand, OAG wonders about the impact of Omicron on demand in the medium term.
The first quarter of the year is usually the low point in aviation activity. Yet OAG notes that the projected capacity in aviation for the first quarter of 2022 is currently 1.149 billion seats. That's a slight drop of 8 million seats from the last quarter of 2021. The consultant notes a large dichotomy between the perception of the airline industry and the policy community.
Regionally, North America is returning to growth with many major airlines increasing their domestic capacity. Week-on-week, the US recorded a 2.7% increase in seat capacity and Canada almost 11%. Only Mexico is an exception with a slight capacity decrease of 3.1% compared to December 2019.
Europe is holding up well
Europe is also seeing significant levels of capacity increases week on week with the start of the ski season. Many markets have expressed their intention to remain open this year. However, capacity in Europe is still 28% below the week of 16 December 2019. France is doing better than the European average with a 22.9% drop in capacity. It is even experiencing a week-on-week increase in seats of 17.6% (December 6 vs. December 13), the highest growth rate in Europe according to OAG.
In any case, France is twenty points better than Germany, whose seat capacity is still 43.8% lower than in December 2019.
The UK, meanwhile, is showing an 11% week-on-week increase. Although these seat capacities are still more than a third lower than at the end of 2019.
Seat capacity on scheduled routes for the top 20 national markets worldwide (Source: OAG, 13/12/21)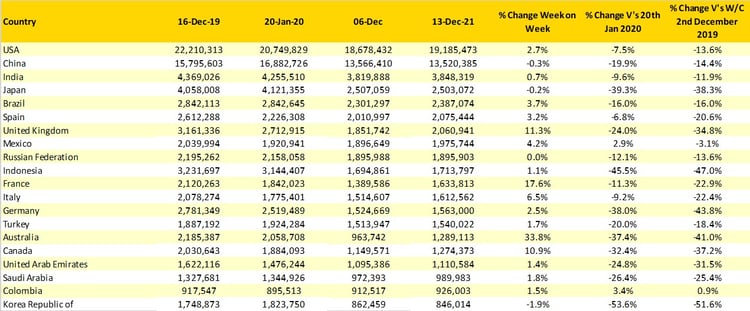 Asia generally remains behind
South East Asia continues to suffer from
a lack of capacity.The Indian subcontinent, on the other hand, is recovering. In contrast, the Indian subcontinent is recovering. Capacity in this part of the world -supported in particular by Indian domestic demand- is down by 13% compared to 2019.
OAG is also seeing a recovery in the Pacific, particularly in New Zealand. The consultant notes a 72% increase in weekday capacity there. Its Australian neighbor is seeing a capacity increase of over 33%. Again, this is exclusively domestic capacity.
North Africa has seen a 25% week-on-week increase in airline capacity, proving that airlines and authorities are doing a better job of assessing passenger demand on the African continent than politicians.
It is clear, according to OAG, that in recent months the entire aviation sector has confirmed its recovery. And that rather than stopping or being overwhelmed by the new difficulties linked to Covid, airlines seem to be working on solutions to continue and even amplify this recovery. The consultant believes that the airlines are thus showing great optimism.
This allows us to think that 2022 will not be so hopeless as that. Proof of this is the multiplication of announcements of reopening of lines by the major world carriers.
I'm Michelle, and I love to travel. As a former hotel expert for one of the world's largest hotel chains, I've stayed in nearly every type of room imaginable (including many that were not so desirable!). Nowadays, I am fortunate enough to be able to explore the world on my own terms. From international flights to learning different languages, there is nothing too far out of reach!